Programme
The Course Week at a Glance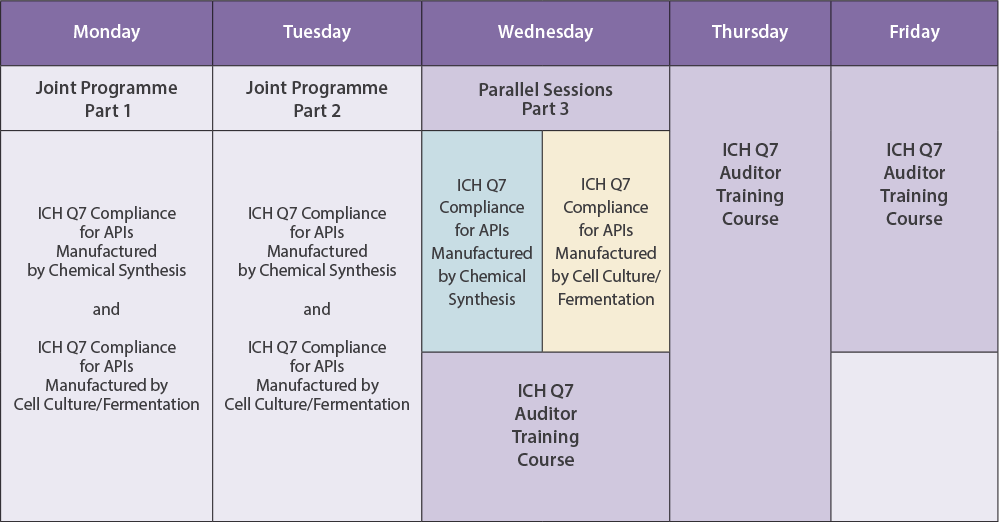 ICH Q7 Compliance for APIs manufactured by Cell Culture/Fermentation
ICH Q7 Compliance for APIs manufactured by Chemical Synthesis
These education courses have been developed to provide an excellent knowledge of the requirements laid down in ICH Q7. The contents of the guideline will be explained step by step and practical advices will be given on how to fulfil the requirements of ICH Q7. You will also get to know the key principles of risk management, quality systems and development and manufacture of APIs as they are laid down in ICH Q9, Q10, Q11 and the ICH Q7 Q&A Document. For example, you will learn
at which stage of production GMP compliance is to be applied.
how to comply with GMP hot topics like process validation, reprocessing/reworking, equipment qualification, change control, failure investigation etc.,
how to use a risk-based approach within the concept of supplier qualification,
How to link material attributes and process parameters to drug substances CQAs,
what has to be considered in order to be prepared for a GMP inspection.
ICH Q7 Auditor Training Course
This course will inform you about the general advice on Good Auditing Practices included in the APIC "Auditing Guide" and the APIC Third Party Audit Programme.
In addition you will learn
how to apply appropriate communication techniques in an audit
on what to focus on during an audit
how to manage difficult audit situations
Download the Programme